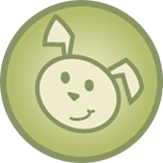 WE NEED YOUR EMAIL ADDRESS!
When you give us your e-mail address, you will receive:
1. Reminders for your pet(s) by email
2. An email from us with a link to get you started on "Petwise". This is a program that you can access from your computer (or smartphone) to view your pet's medical information at any time.
From here you can view your animal's vaccination records, medications dispensed, surgeries, etc.
The email you receive will contain your username (which is your email address) and your password. You can then change your password to whatever you want it to be.
After your first visit, go to our website www.rankinanimalclinic-ms.com, click Login and enter your user name and password, and it will pull up your pet(s) page and information.
Have a smart phone? Get the free App! Just go to your app store and search for "Petwise." The icon will look like the one above.
All your information (Vaccinations, Reminders, Medications) about your animals is now on your mobile smart phone!
Can't remember your password, no problem! Call us, we can help!
Find us on facebook! Search
"Rankin Animal Clinic"